Bandai's Soul of Popynica Space Battleship Yamato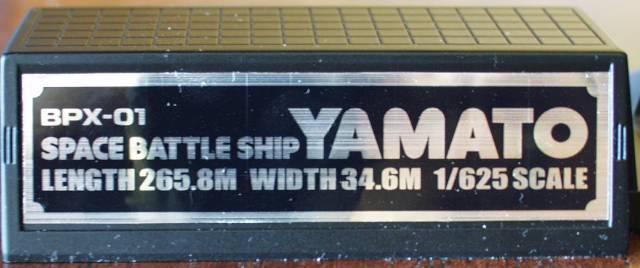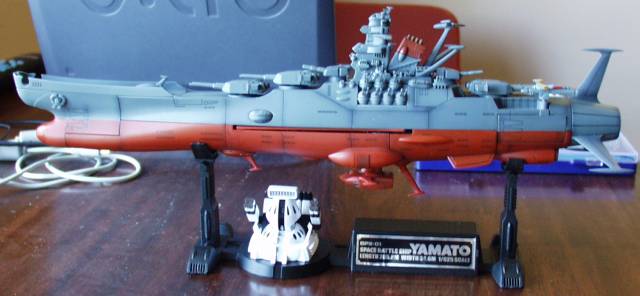 Port side view. Apologies for the mess behind it!

Close-up of the port side anti-aircraft guns. These rotate using a dial on the starboard side.

Port side, with wing extended. There's a button on the bottom to make the wings pop out.


Catapult with Kodai's Cosmo Zero (the plane is removable.)

Detail of chimney missiles and bridge

Front view of bridge. I don't have the antennae on at the moment, since they keep falling off.

Bridge with lights on.
Shots of the hangar, including the "red alert" light.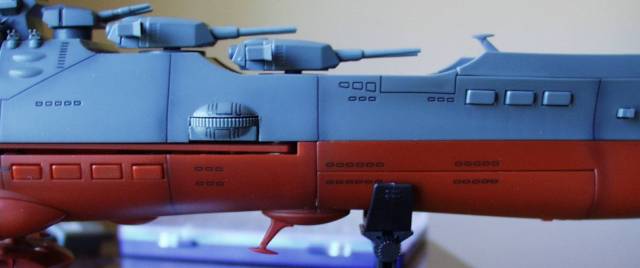 Right side, showing buttons for sound effects. From left to right:
Red alert, lights hangar.
Bridge alarm, lights main bridge, second bridge, and captain's quarters
Engine ignition, lights rear engines
Flywheel start
AA guns
Main guns rotate, lock, and fire
Wave Motion Gun, lights wave gun barrel
Small push tab to open left-side wave gun door.
Also note the thumb wheel above the wings; this is to rotate the forward main guns.


Rear view, showing engine lights

Third bridge, just before being blown off <g>

Wave Motion Engine (port catapult removed.) The starboard catapult is a lever that spins the flywheels.


Wave Motion Gun and torpedoes. The pressure chamber slides forward using a lever on the deck.
Front view, showing Wave Motion Gun light. The neat thing about the light is that it's not just "on" or "off" like the Andromeda light-up model kit. When you hit the button for it, the wave gun sound starts building, and the light is dim. Then as the gun reaches full power, and fires, the light goes full brightness.

Cosmo Cleaner (snap-together model kit.)